Dr. Man Chuen CHENG
Lecturer
BSc, MPhil (The Chinese University of Hong Kong);
PhD (Stanford University)
---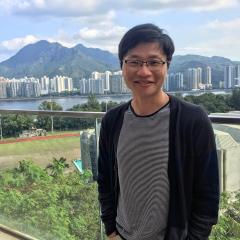 Address:
Room 210, Lady Shaw Building,
The Chinese University of Hong Kong,
Shatin, N.T., Hong Kong
---
---
---
Fields of Interest:
Algebraic Topology, Equivariant Stable Homotopy Theory, Group Representation and Cohomology
---
Selected Publications:
Singular metrics with negative scalar curvature (joint with M.C. Lee, L.F. Tam), accepted in International Journal of Mathematics 33, (2022)
On the moduli spaces of commuting elements in the projective unitary groups (joint with A. Adem), Journal of Mathematical Physics 60, 071703 (2019).
Representation spaces for central extensions and almost commuting unitary matrices (joint with A. Adem), J. London Math. Soc. 94 (2): pp 503-524 (2016).
---